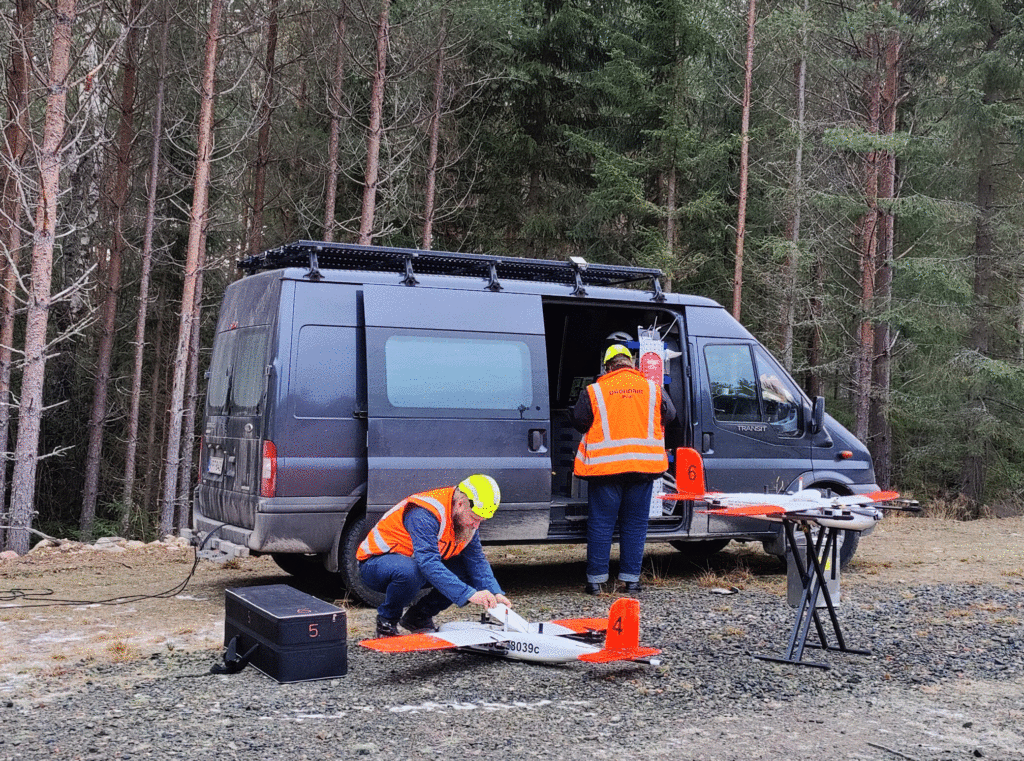 Radai's first Beyond Visual Line of Sight magnetic survey in Sweden took place in a historic mining area: one that for several centuries was a major provider of silver, lead, and zinc ore and transformed Sweden into a regional power. Being an ancient mining area, its geological structure is quite well charted, yet it seems that modern Earth scanning technologies can offer new insights about the ground's structure  – thus making mineral exploration more precise.
The project was done on behalf of Alicanto Minerals and took place during the dark days of November – one of the most difficult months for drone flying because of unfavorable weather conditions. The scope of the survey was to measure Earth's three-component magnetic vector field near the town of Sala, which is located in Central Sweden. The measurements were done using two VTOL (vertical take-off and landing) drones that had a digital 3-component fluxgate magnetometer installed in the tail boom. The survey consisted of 80 line-km, which were covered by Radai's VTOL drones by two flights.
Despite well-established procedures and technical specifications, each project is unique and posses own challenges. What made the Sala survey special was not the Beyond Visual Line of Sight aspect – this is an everyday occurrence in Radai's drone operations since all company's geophysical surveys performed during the last 3 years were flown B-VLOS. The project is worth remembering because it put the whole team in a lot of first-time situations to which it had to cope and adapt. It was a kind of test that offered plenty of opportunities to fail. Now, once the project is done, it can be said that the flying crew passed the test brilliantly.
It was the first time when Radai performed a B-VLOS operation in Sweden. That meant that daily routines had to be adapted to different requirements and aviation regulations. The crew had to find ways to communicate and deal with local authorities.
Unlike most of the projects, the surveyed zone was located in a more densely populated area than other projects – which implied special precautions and safety measures. In populated zones, no mistake or technical failure is allowed and such an occurrence can have serious consequences.
The relief of the area was different from the previously surveyed plots, and it required changes and adaptations in flight plans.
Weather conditions during late autumn are not the most favorable for drone flights: icing and wind damage both the plane and the sensors, making November mostly a no-flying month. Therefore, the crew had had to closely follow the weather conditions and fly only when the weather was suitable.
What started as a difficult project proved to be a successful one. It confirmed Radai's team's professional level and showed that with high-level professional skills plus the ability to adapt to new situations, combined with carefully built operational procedures, any type of project can be successfully done. Encouraged by the positive outcome of its first Beyond Visual Line of Sight survey in Sweden, right afterward Radai started another magnetic survey in the northern part of the country. More projects are planned for 2022.